Watch for QC PastPort signs popping up all around the Quad Cities.  Our website will display a map identifying locations as they are added.
When you stop at a QC PastPort sign you will be able to learn more than just what would fit on a sign. That would never be enough! So, each sign will have printed information about the landmark or site.  Look for a text number you can type into your phone to hear a story associated with the destination.  This text code will also reveal narratives about the landmark with both text and historic photographs.  Last, do not forget to look for the stamper attached to the sign, so you can document your visit in your own PastPort booklet.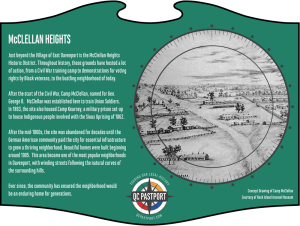 PastPort booklets will be available soon.  If you are a local, you can use the stamper at each location to add a unique stamp to your booklet.  There will even be plenty of room to add your own notes to the page to document your tours.  If you are a visitor, you can do the same and leave the Quad Cities with a personalized record of your visit.
Our website and app will help you plan your customized tour.  You will find a color-coded map using the same color arrangement as our local way finding signs.  Davenport is green, Bettendorf is yellow, Moline is Blue and Rock Island is red.  There will be pinpoints showing the location of all the PastPort stops.  An extensive history of the location featuring both text and photographs is hidden on the site, but you will not be able to see it unless you punch in the code found only at the historic site.
Visiting the sites and entering the codes will earn you points for discounts or prizes.  This will be like an area scavenger hunt.  As locations are added, you will have new history and fun facts to discover and more points to earn.
New signs will be popping up all over, so keep your eyes open!  For the latest information, check out our Facebook, Twitter and Instagram accounts!  Ready to get started?  This is going to be fun!